Regular price
Sale price
$95.75 USD
Unit price
per
Sale
Sold out
Our CBD Oil and CBG Oil Blend 1400 is formulated for maximum efficacy and is crafted and extracted with 100% all-natural materials.
FULL-SPECTRUM, WHOLE-PLANT
FlowerChild CBG Oil & CBD Oil Blend 1400 is a convenient way to experience the effects of both CBG (Cannabigerol) and CBD (Cannabidiol). It's a 50/50 blend containing 700mg of each cannabinoid or 1400mg total cannabinoids.
Details

Bottle Size: 1oz (30mL)
Potency: ~700mg CBD and 700mg CBG per 1oz bottle (1400mg total cannabinoids per 1oz)
Potency Per Dropperful: ~46mg total cannabinoids (23mg CBD and 23mg CBG) per 1mL
Activation Time: 30–90 min
Third-Party Test Results: find all test results here
Ingredients

Cold-pressed grape seed oil, hemp extract (CBD and CBG), peppermint oil (option)
Directions

¼–1 dropperful 1–3x a day as needed. Take under the tongue for best results and hold for 30 seconds.
Flavor

Earthy, bitter, herbal (peppermint option adds a refreshing minty taste)

Our 1oz size of CBD & CBG Blend 1400 is available in two varieties: Peppermint or Natural. The only difference is that our Natural has two ingredients: hemp extract and grape seed oil, and the Mint has three: hemp extract, grape seed oil, and pure, certified organic peppermint oil.
This product has not been approved by the FDA to treat, cure, or prevent any disease.
View full details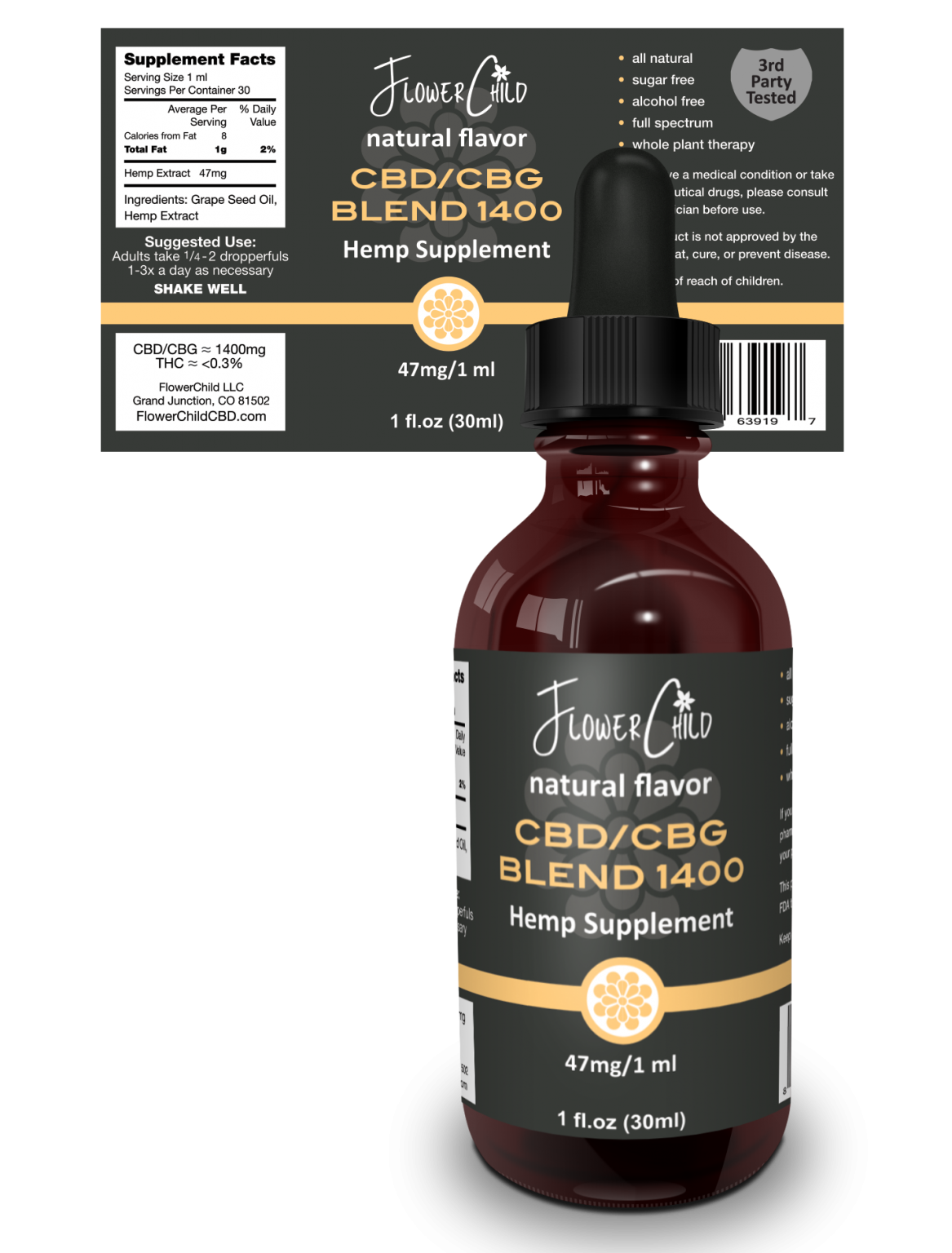 CBD/CBG blend 1400 changed my life
As a 3 time cancer survivor that was hit by a truck, riding my bicycle 12 years ago, I can honestly say that when I started using CBD/CBG tincture, I never imagined living without pain meds. But within 4 weeks of taking this, I was able to eliminate pain meds and reduce my heart and Diabetes meds. I notice when I miss a dose so I know it really is the tincture. Great quality too! Highly recommend
CBD/CBG blend just what the doctor ordered
I was diagnosed with Leukemia and as part of my treatment, the Naturopath suggested that I use the CBD/CBG 1400 blend specific from Flower Child to help with sleep and anxiety and pain management. I have been using it now for about 6 months and I can tell you it has worked wonders for me. I use it primarily a couple of hours before bedtime and I take one dropper full. My restful sleep has increased to an average of 7.5 hours each night. I feel and overall sense of calmness. I will say the the treatment of the Leukemia is progressing well with the standard prescriptions and I know that has also contributed to my positive feelings. I will continue to use the CBD/CBG 1400 blend even after my other Leukemia treatments are finished as I believe it adds to my quality of life.
Miracle saver
The blend tinture is a lifesaver for me. I can now fall asleep without stressing.
Love FlowerChild
Great product for inflammation
Blend 1400 tincture
My son and I use this daily primarily for back pain. In combination with the salve blend, it keeps us moving comfortably without the use of NSAIDs. I highly recommend this product yet is a consistent formula. Meaning we get the same affects from it over months and years. Thanks Flowerchild CBD.